Shopping for Timber Vanities: The Ultimate Guide for Bathroom Vanities in Australia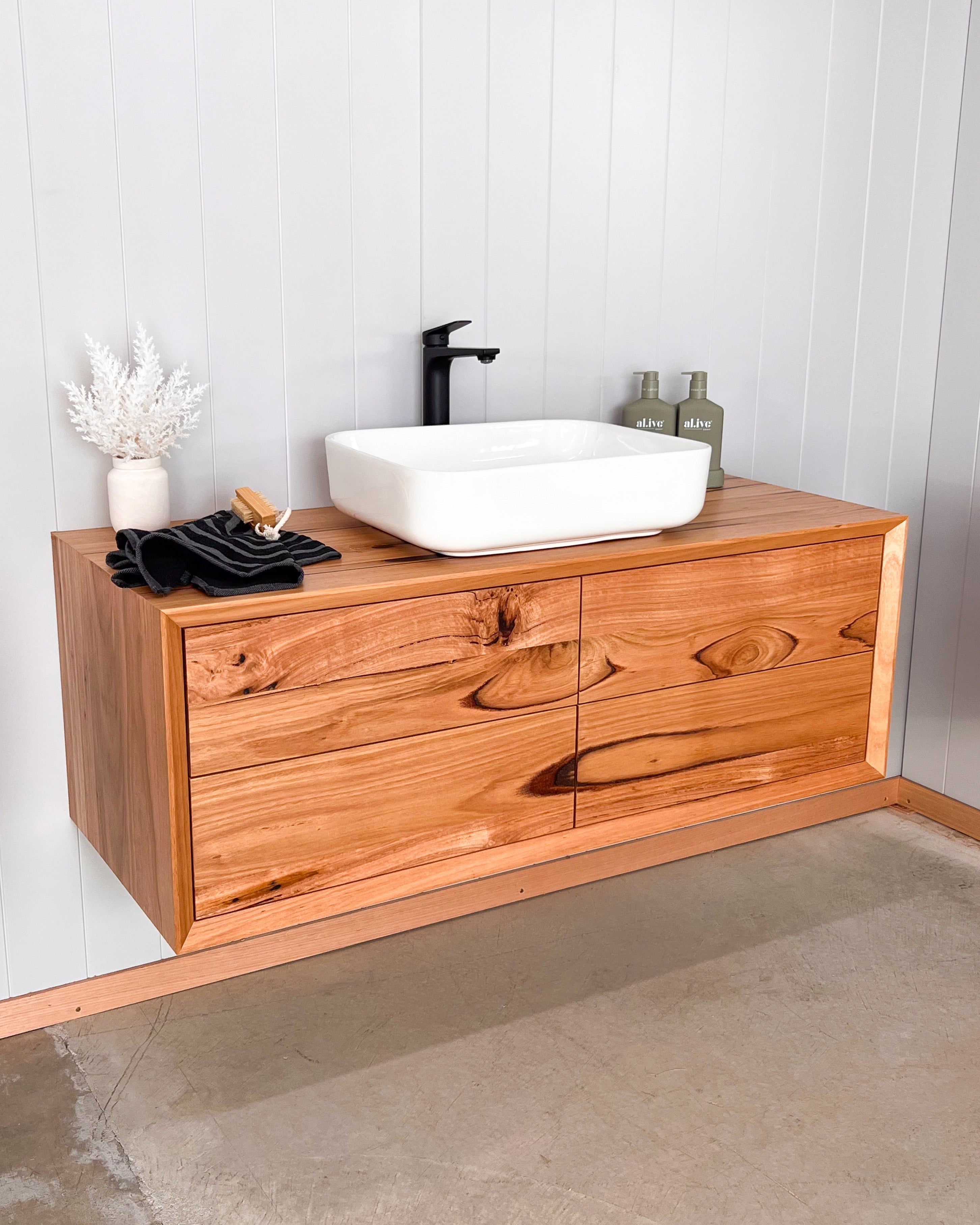 Are you looking to add warmth and character to your bathroom with a stunning timber bathroom vanity? Yet again, are you looking at adding multiple timber bathroom vanities? From their natural beauty to their durability and eco-friendliness, timber vanities provide a versatile and stylish choice for any bathroom. In this blog post, we'll guide you through the various types of timber vanities, popular timber choices, customization options, and tips for shopping both online and in-store.
Short Summary
Timber vanities bring timeless elegance and durability to any bathroom, while also being eco-friendly and a long-lasting investment.

Choose from wall hung or freestanding types for space saving & statement pieces. Popular Australian timbers like Tasmanian Oak, Blackbutt & Messmate are great sustainable choices!

Customize your vanity with single/double basins, soft close drawers, push to open drawers and doors & natural oil finishes, shop online or in store for the perfect piece!
The Beauty and Benefits of Timber Vanities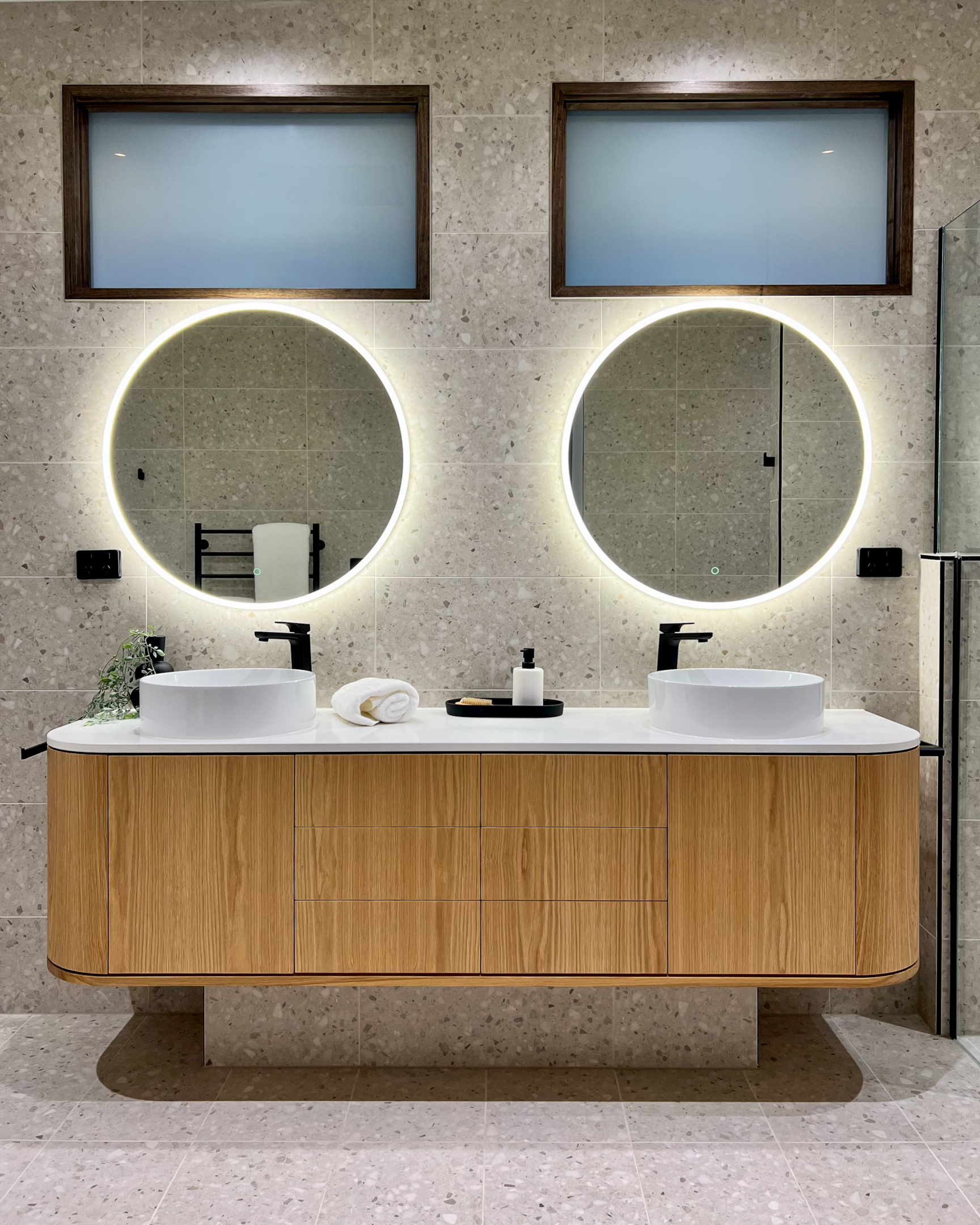 Solid timber bathroom vanities offer a wonderful and sturdy solution for your desired bathroom design. With their beautiful grain patterns, warm tones, and majestic feel, they can add an elegant touch to any space. Furniture makers craft these pieces with the intention of them being long lasting. Thanks to durable materials that adapt well to environmental changes, your investment will stay intact no matter what happens!
Timber vanities bring together both natural beauty and purposeful function in one go - solid timber is known for its resilience allowing it not just to be stylish but also dependable at the same time so it's easy to see why this type of vanity has been such popular choice among those looking for luxury elements in their bathrooms.
Aesthetics: The natural beauty of timber
The solid timber vanities have a unique, stunning appeal that only real wood can bring to your bathroom. Every type of material comes with its own individual character and features which makes it easier for you to choose the perfect vanity according to what style best fits in with the look of your room. Whether you prefer international timber species such as American Oak and American Walnut, or local ones like Tasmanian Oak and Messmate, these wooden vanities create an exquisite atmosphere that will enhance any décor.
Timber provides both an attractive design element and also adds warmth to your sanctuary, making use of natural beauty along with creative styling brings out a tranquil feeling where one feels truly at home within their own personal area. This combination creates luxurious aesthetics, so be sure not miss out on adding a piece made from sturdy timber!
Durability: Built to last
When you're looking for a bathroom vanity that is of high quality and built to last, solid timber vanities provide an excellent solution. Skilled furniture makers carefully construct each piece with great attention-to-detail which ensures it can withstand even the most humid environments without warping or cracking.
Kariko's construction methods allow for timber materials used in these types of vanities to adjust their shape according to environmental changes, allowing your new vanity fixture to stay strong and beautiful throughout its lifetime!
Eco-friendly: Sustainable materials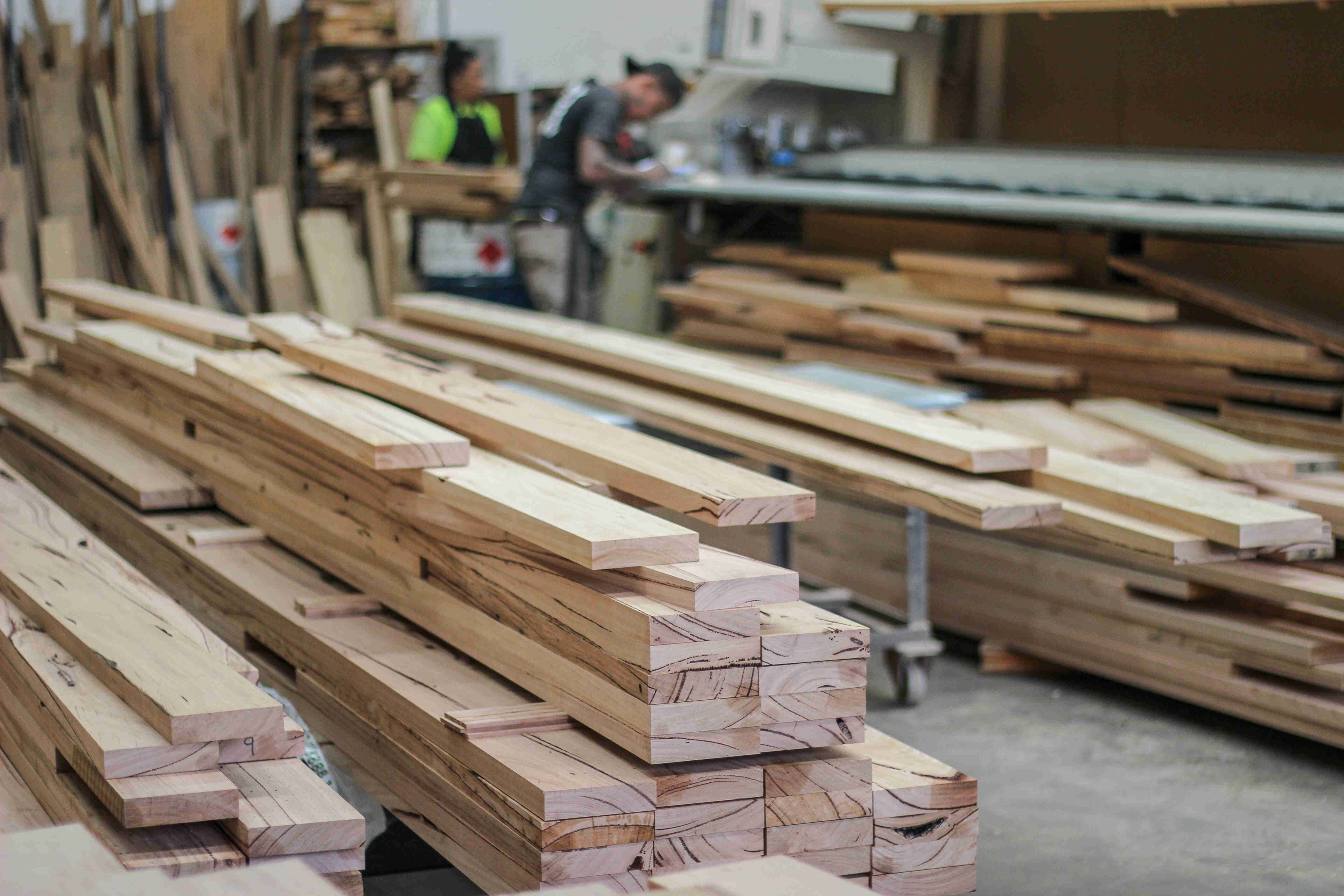 By selecting timber vanities crafted from local resources or materials requiring minimal embodied energy, you are able to reduce your environmental impact and back sustainable methods. Timber vanities frequently include components which can be recycled or decomposed naturally, Boosting their eco-friendly attributes.
Including a vanity produced with either sustainably harvested wood or reclaimed timber is an additional way of being environmentally friendly when furnishing your bathroom space. By choosing these options for furniture in the home, it significantly reduces emissions associated with production of such items due to less required inputting energy levels throughout manufacturing stages. At Kariko, we offer Recycled Messmate that has been reclaimed from old buildings around the city of Melbourne. Alternatively, we sustainably source Australian timber from reputable timber mills who follow ethical guidelines.
Versatility: Customisable designs
The range of timber vanities available makes it possible to create a bathroom vanity that is tailored perfectly to your style and needs. From classic designs, up-to-date looks or custom configurations with soft close drawers, the versatility of timber allows you to construct something unique, an individual vanity just for you. Natural oil finishes add another level of elegance, giving these pieces both form and function in any bathroom setting.
Types of Timber Vanities: Wall Hung vs. Freestanding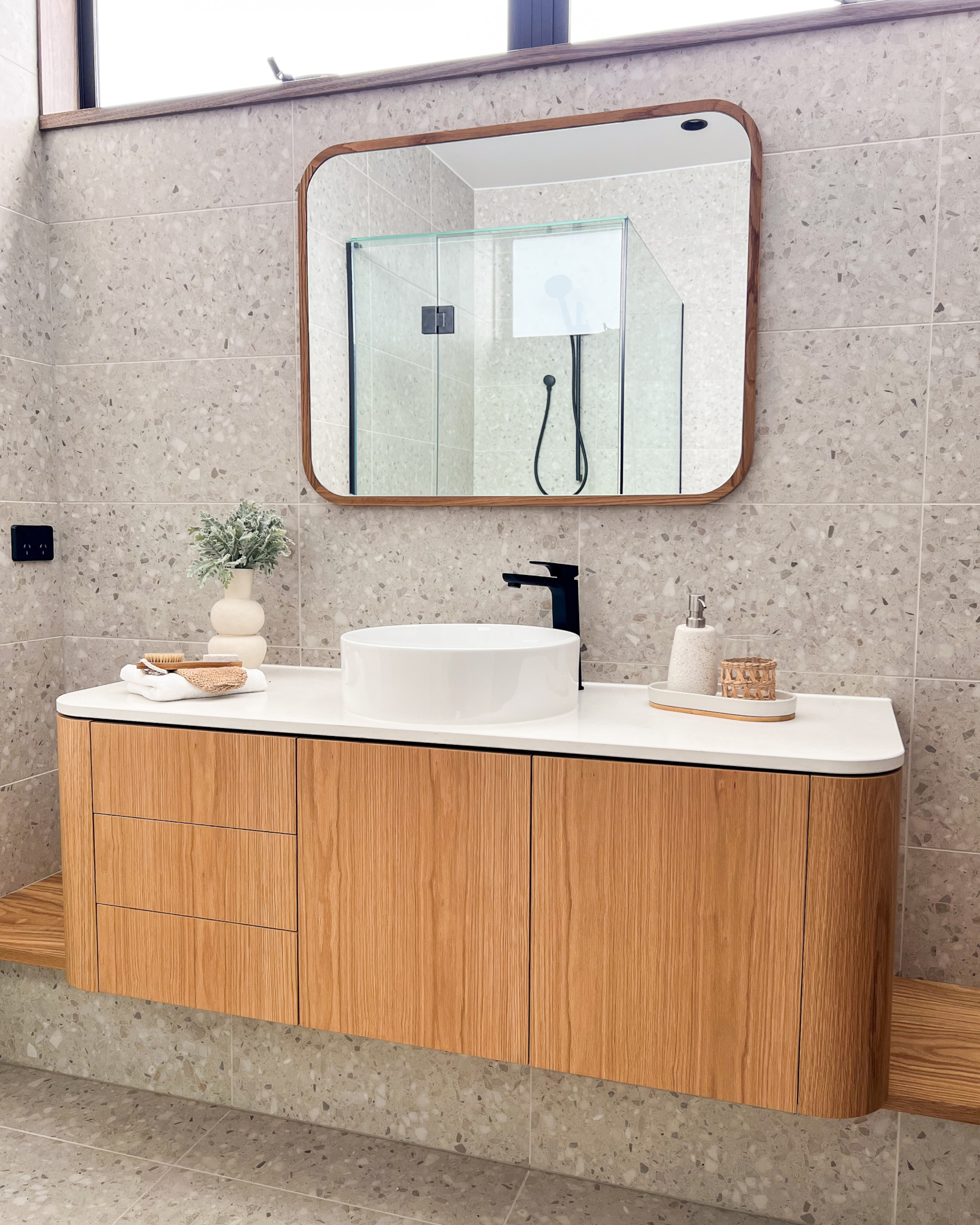 For bathroom vanities made of timber, there are two main types available: wall hung and freestanding. Wall hung designs offer a space-efficient and modern look while the latter serve as accents in bigger bathrooms when constructed with interesting designs to create beautiful premium pieces. You can also incorporate stylish details into these creations for added flair.
Wall Hung: Space-saving and modern
A timber vanity that hangs on the wall is a popular choice among those wanting to get more from their bathroom. The structure being affixed directly gives an impression of added space, making it ideal for smaller areas.
These vanities are easy to maintain and provide storage solutions with versatile layouts for your needs in the restroom while still looking fashionable at the same time! With a hanging timber vanity, there is no sacrifice when it comes to looks or room, you can achieve both thanks to this effective option.
Freestanding: Statement pieces for larger bathrooms
Timber vanities, which can be freestanding or wall hung, make a great addition to any bathroom. Freestanding timber vanities are particularly suitable for larger bathrooms as they offer more design flexibility and create an impressive look in the space due to their solid construction. Not only do these pieces provide visual appeal but also plenty of storage options since they come with ample room for all your bath items. Wall-hung wood furnishings bring style along with practicality into your bathroom while providing just enough storage opportunities without taking up too much space - perfect when you're short on space!
Popular Timber Choices for Bathroom Vanities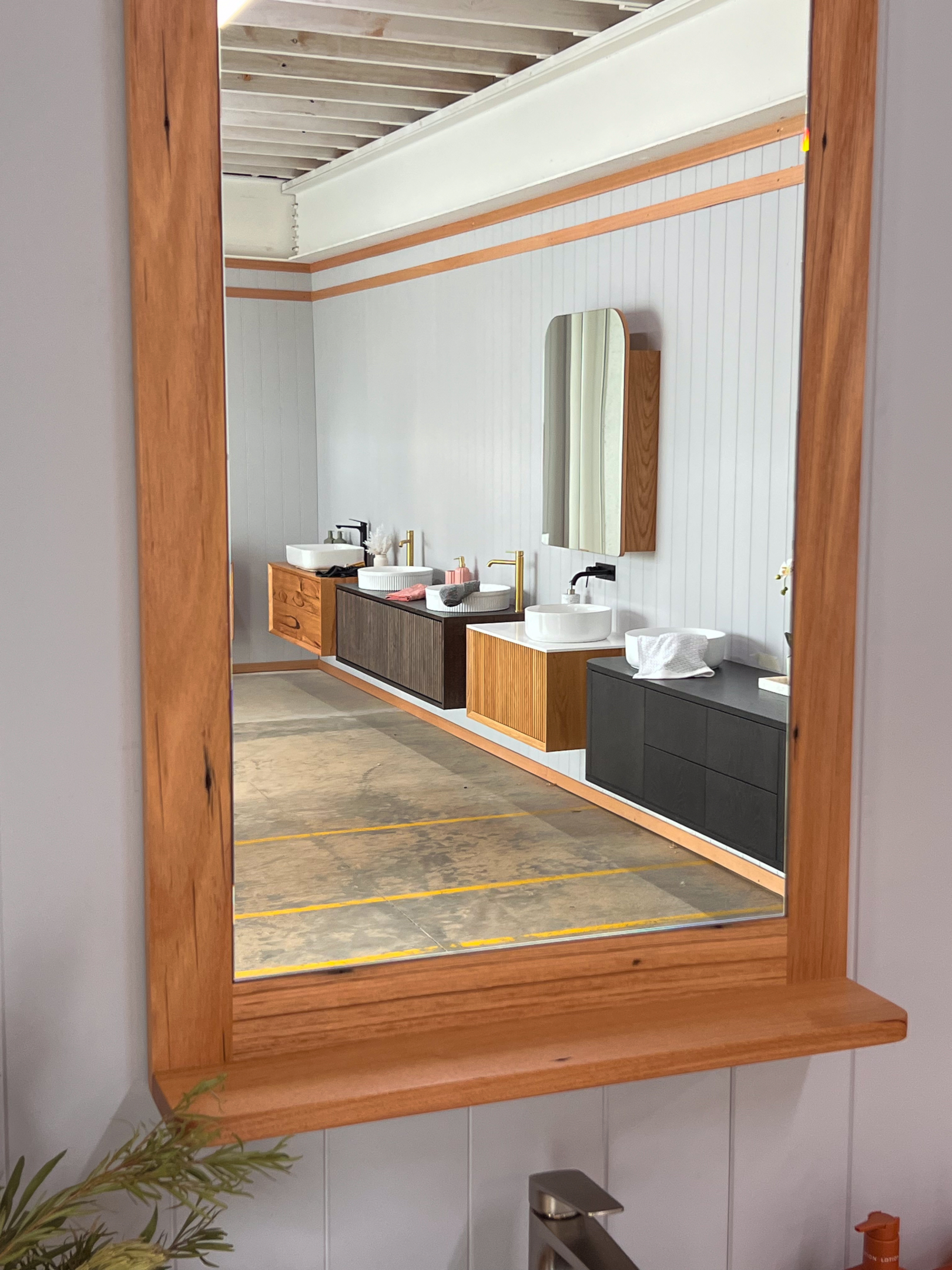 Choosing a timber vanity presents numerous appealing possibilities, with both local Australian and exotic timbers as options. Messmate, Tasmanian Oak and Blackbutt are among the locally sourced varieties that can create stunning looks in your home. Exotic wood styles may be considered for their own unique visual effects. Whether it's native or foreign timber you go for - no matter what you choose from the vast range of available variants – one thing is certain: when introducing a wooden vanity to your decor scheme, its beauty will not disappoint! Head over to our website to check out different timber species on our bathroom vanities!
Australian Timbers: Local and sustainable
The beauty of Australia's natural resources can be seen in their native timbers such as Messmate and Blackbutt, making them a highly desirable choice for those looking to invest in a high-quality eco-friendly bathroom vanity. Not only are these materials sourced locally, but they also have the added benefit of being sustainable while providing warmth and character to any room.
Purchasing an Australian timber vanity is not just about supporting local businesses, it's also about getting good value for your money with products that will last due to its durability, all while reducing environmental impact at the same time! You are also assuring yourself that it is constructed using only the best methods and won't end up in landfill in years to come.
Exotic Timbers: Unique and eye-catching
For a more distinct aesthetic, those looking to furnish their bathroom should consider opting for exotic timbers such as Spotted Gum and American Walnut. Known for their intricate grain patterns, opulent hues and strength, these timber species make attractive vanities that will last many years.
Sourcing of these materials is done responsibly with sustainable practices in mind. By choosing an exotic timber vanity, you get the beauty it offers along with the assurance that environmentally-friendly policies are respected.
Customizing Your Timber Vanity: Design Options and Features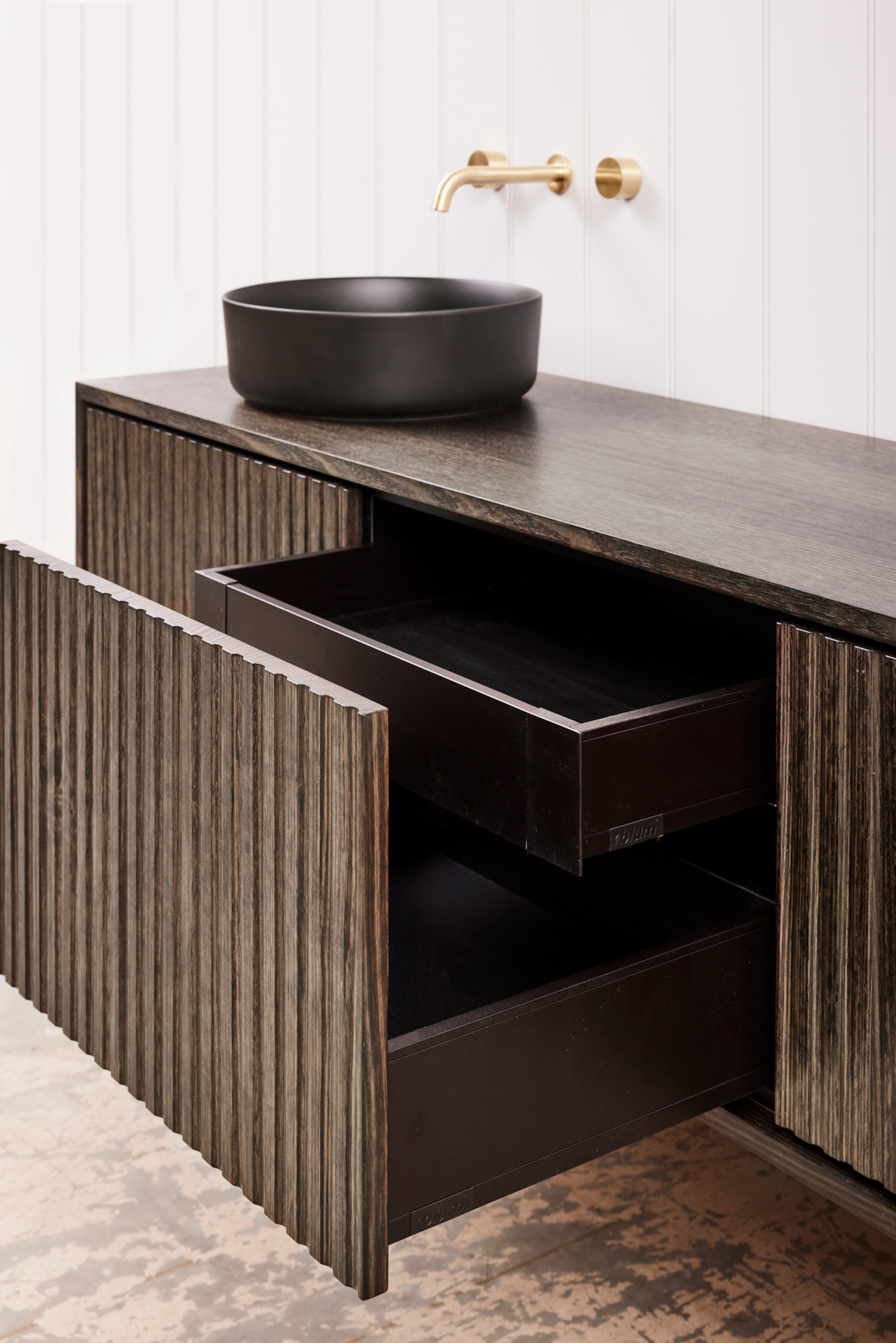 From vanity configurations to soft close drawers and natural oil finishes, there is an extensive range of sizes, shapes and styles available for you to create your perfect timber dream vanity. Whether it's a single or double unit in the bathroom space that takes your fancy, all these customization options can be tailored just for you. The possibilities are limitless when crafting a high-quality wooden storage drawer built specifically with all your needs in mind!
Vanity Configurations: Single or double styles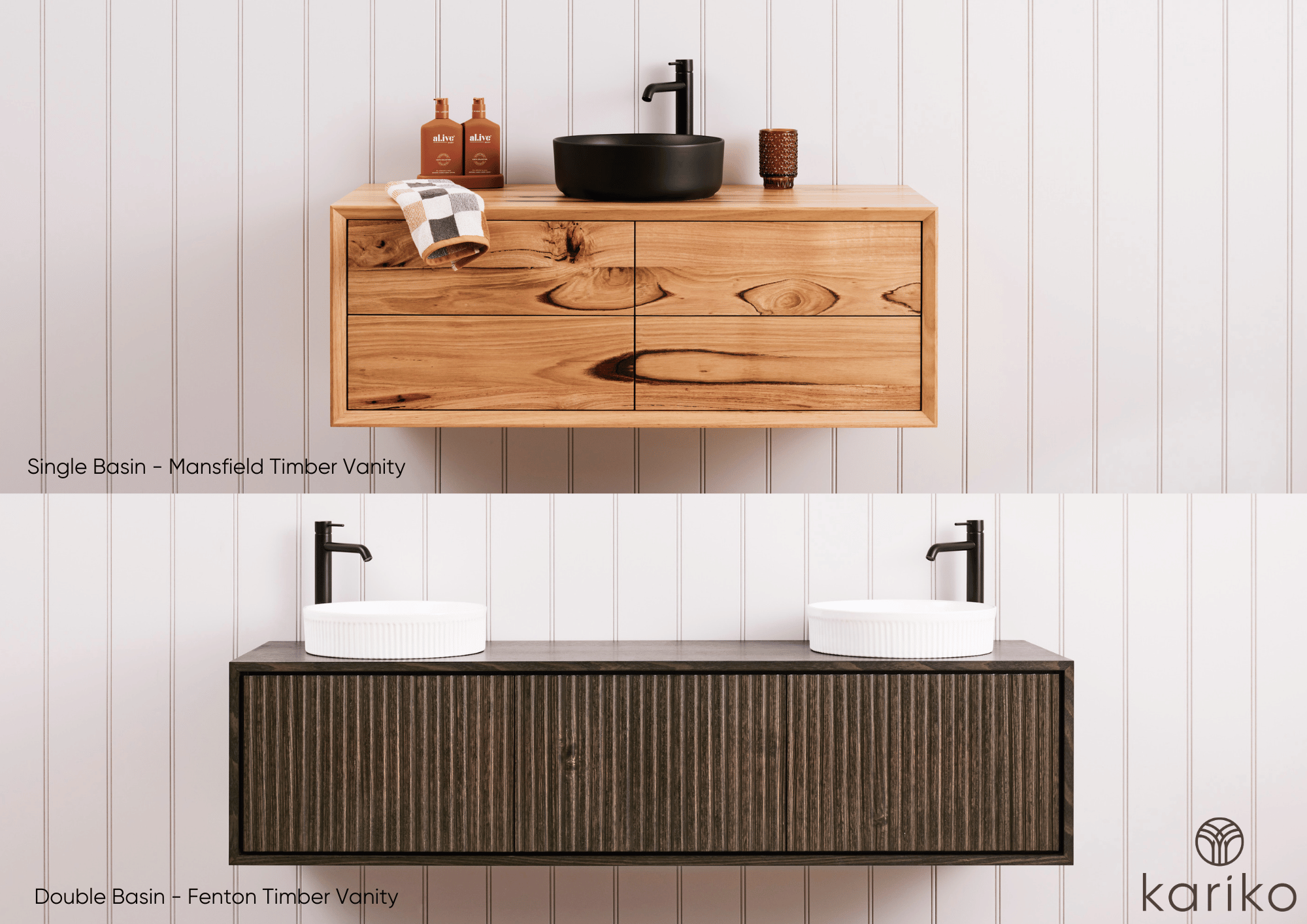 When designing your timber vanity, you must first decide whether to choose a single basin or double basin. A single set-up offers one basin which is well-suited for more modest bathrooms, while the larger versions have double basin making them perfect for spacious bathrooms that are shared by multiple people.
Both of these types offer their own merits and can be altered according to the size of your bathroom as well as any special needs you may need it to fulfil in order to add both practicality and beauty to this space.
Soft Close Drawers: Functionality and style
You can upgrade your bathroom and add a luxurious touch by installing soft close drawers. These specialised cabinets are designed to close quietly, preventing any potential damage from being caused due to slamming of doors or drawers. Not only will the slow closing action enhance the look of your vanity, but it also serves as an added protective feature that ensures longer lasting use out of it. Soft-close drawers make for both a practical and aesthetically pleasing addition in any lavatory space! At Kariko, we use a combination of soft close drawers, and soft close doors on all of our bathroom vanities.
Natural Oil Finishes: Protecting your investment
To safeguard the long-term sustainability of your timber vanity, look into a natural oil finish. This type of coating will act as a moisture and stain barrier to protect its beauty and strength. With this solution in place, you can maintain your wooden vanity's quality for years ahead. By choosing such an option, you are preserving the elegance and longevity of your furniture investment made from wood material without compromising on any aspect associated with it. Alternatively, a 2-pack polyurethane is used to protect bathroom vanities from water damage, however if water is left on the surface of the bathroom vanity over time, it could penetrate the coating and can be difficult to repair as it requires repair off site. By choosing an oiled finish, if water damage does occur, you can more than likely sand back the area and recoat it while the vanity is still in your home.
Finding Your Dream Vanity: Tips for Shopping Online and In-Store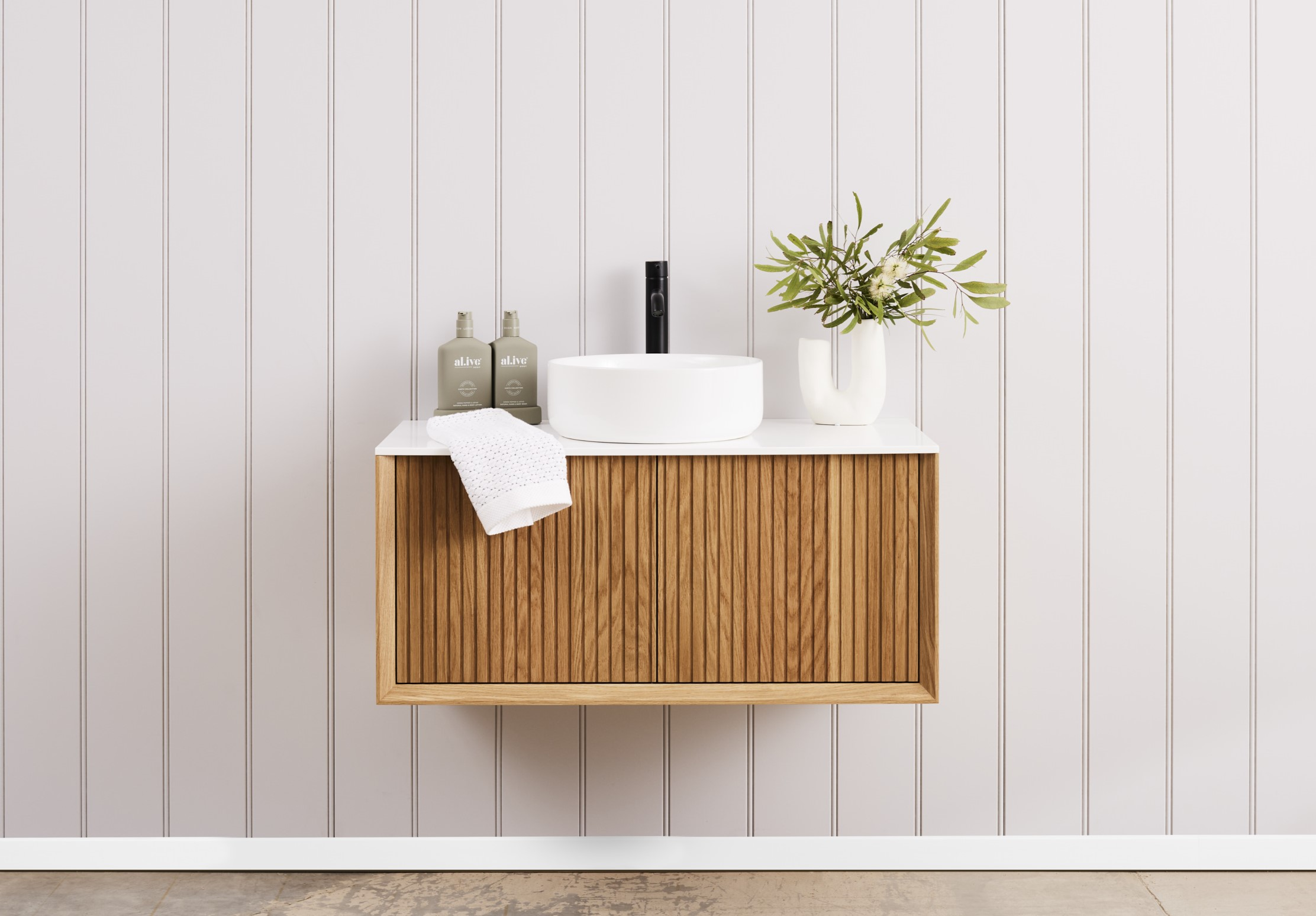 When shopping for a timber vanity to fulfill your vision, you can either shop online or in person. Buying through the web offers convenience and selection, while an onsite visit gives you direct access to physically inspect the product before purchase. Regardless of choice though, both options are sure to provide plenty of suitable woody vanities for your needs!
Online Shopping: Convenience and variety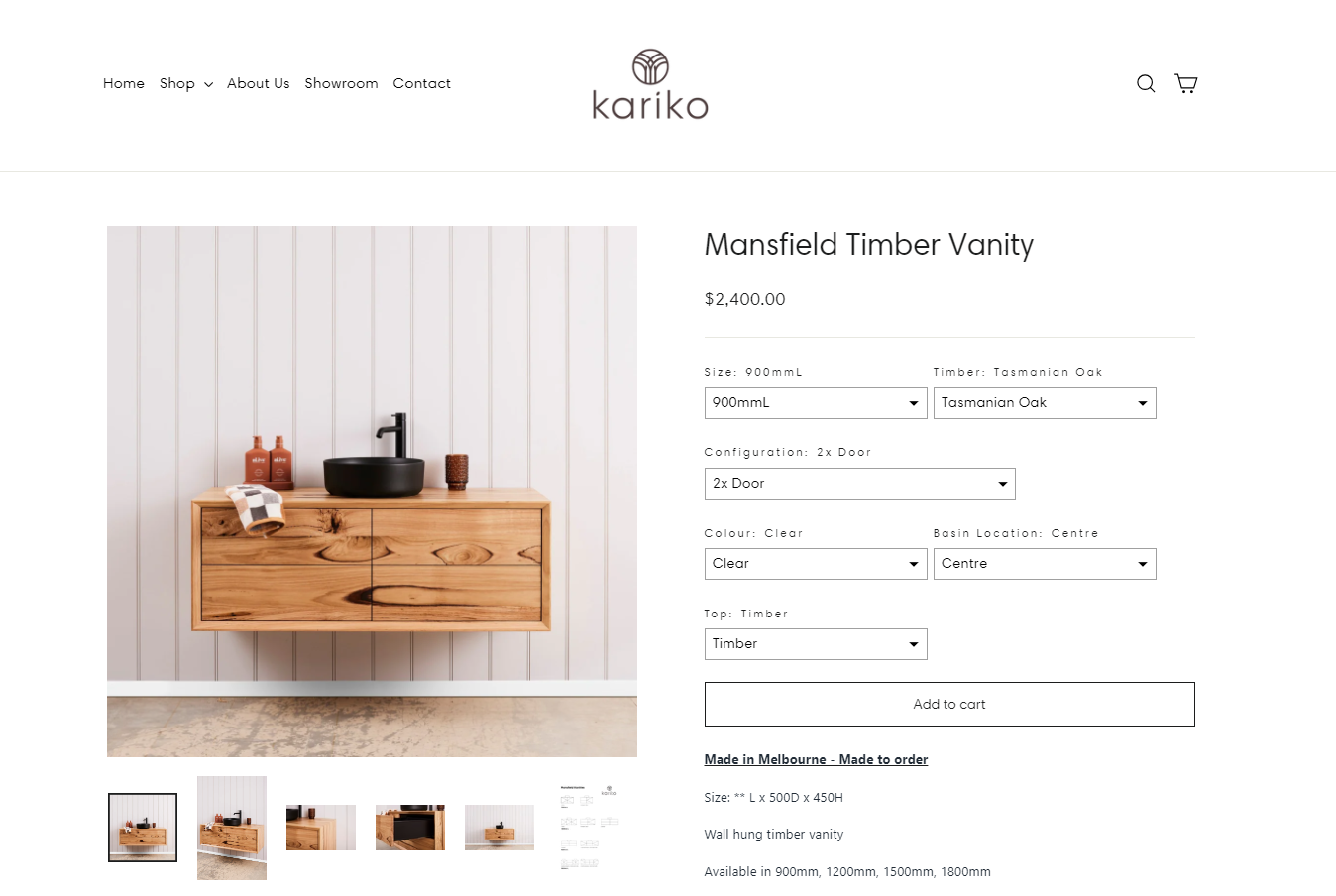 Shopping online for timber vanities offers the great advantage of being able to look through a wide range and make your selection from the comfort of your own home. You can easily compare different designs, finishes and prices when you want to buy something special for your bathroom. The larger variety available on websites makes it possible to find an excellent product that suits both your style preferences and budget restrictions.
It is important that before completing any purchase, consumers read reviews, compare costs between vendors, and familiarize themselves with return policy details in order to get their perfect vanity choice right every time they shop online for timber vanities or anything else really!
Overall, shopping online provides far more convenience than what would have been experienced otherwise. Providing buyers access not only greater ease, but also expanded options in terms of styles within reach, all without having to leave house even once!
In-Store Shopping: Hands-on experience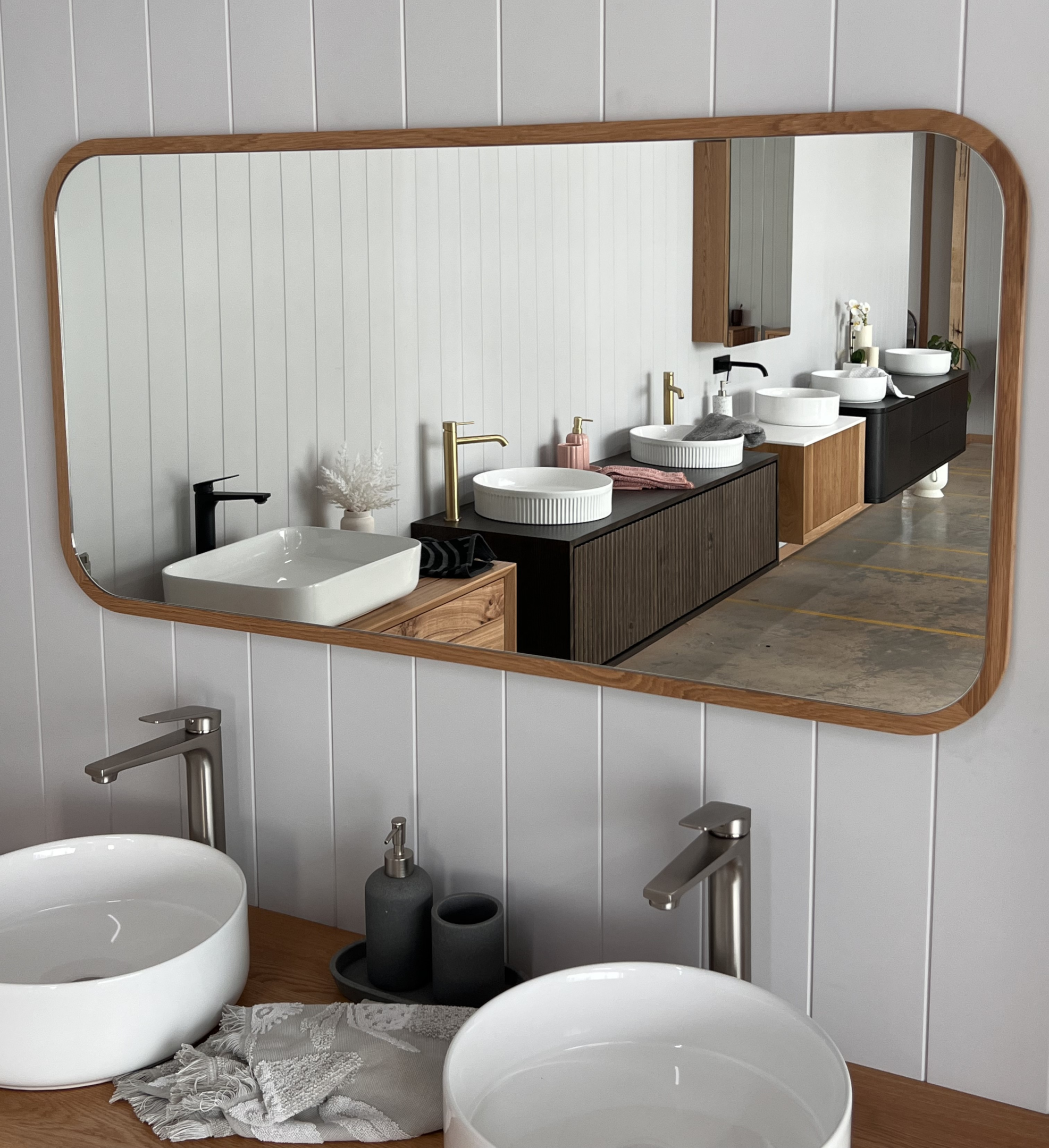 When it comes to shopping for a timber vanity, there's nothing quite like visiting an in-store location. You can get up close and personal with the materials and craftsmanship on display, ensuring that your choice of timber bathroom storage is just right for you. Knowledgeable sales staff will be able to give helpful advice on what would look best in your space.
Aside from being able to inspect the product yourself at the store, buying directly means you don't have long waits or delivery fees – plus comparing different vanities side by side makes finding one perfect suited for you much easier!
Summary
When it comes to style and beauty for a bathroom space, timber vanities are an excellent option. Not only do they boast natural attractiveness, but also feature durability that makes them environmentally friendly. From the warm tones of Australian timbers to exotic options featuring unique character, there is certainly something out there tailored to meet your exact requirements - you can shop either online or in-store and find precisely what works for you with customizable designs available too!
Frequently Asked Questions
What is the best material to build a bathroom vanity from?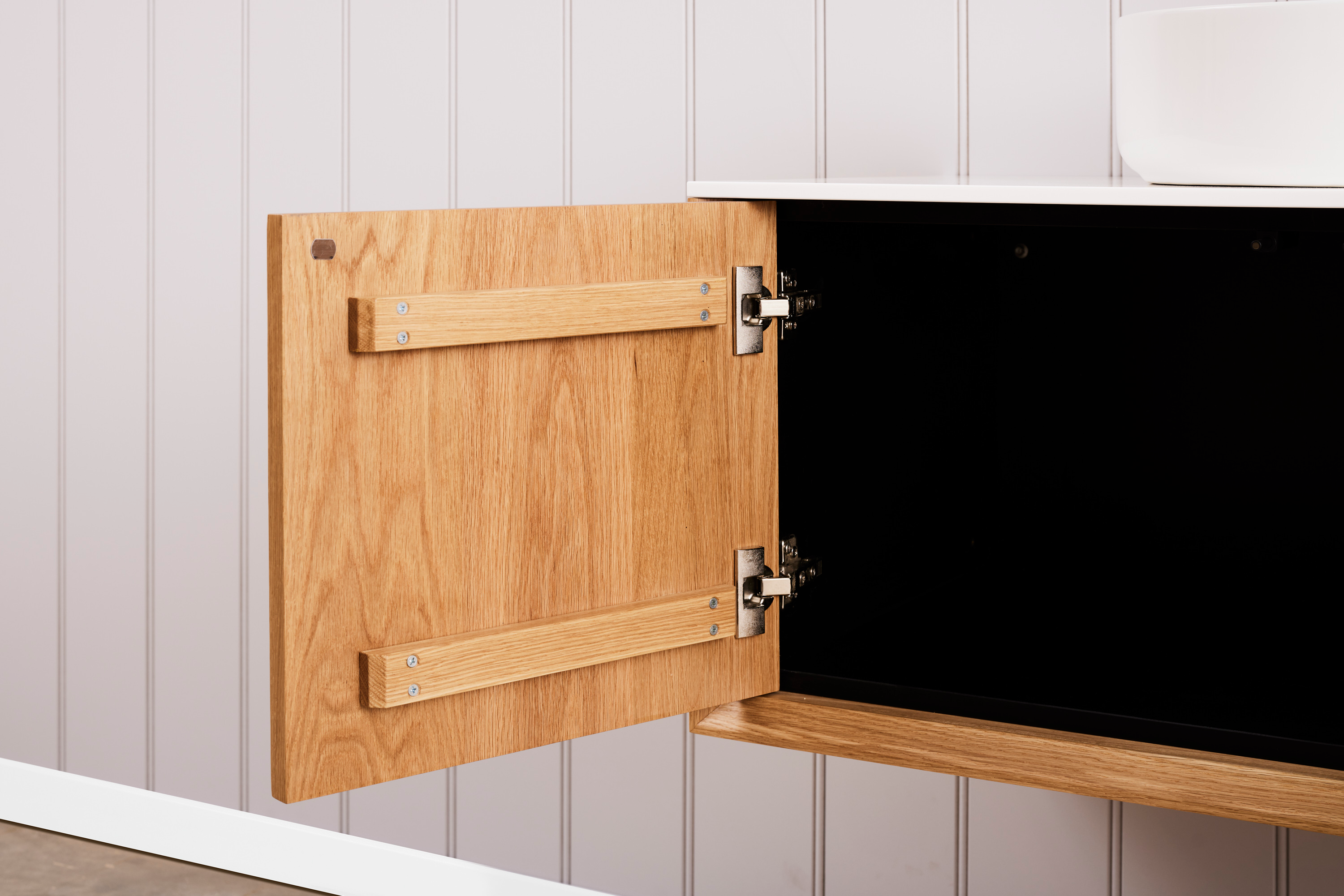 Solid wood is an ideal material for constructing a bathroom vanity as it offers longevity and durability that other materials don't. Its use in construction has been well documented throughout the centuries, making it still a top choice among builders today. Wood can be easily maintained and refinished when necessary so that your bathroom vanity always looks great over time. We use melamine for the carcass for ease of cleaning, and clad it in solid timber to give it a sense of warmth and luxury.
American Oak is seen as the optimal wood choice for bathroom cabinets because of its durability and water resistance. Messmate, Blackbutt, and Tasmanian Oak are also good selections if one wants a long lasting cabinet in their bathroom. All these woods guarantee solid quality while making sure that moisture won't be an issue over time.
What are the main benefits of timber vanities?
In a bathroom setting, timber vanities can bring beauty and natural appeal while boasting durability. Easy to customize with different styles, colors, and finishes, these eco-friendly options are sure to enhance any room's design. They require minimal maintenance ensuring their ability for longevity when taken care of properly.
What is the difference between wall hung and freestanding timber vanities?
For a contemporary, space-saving appeal, wall hung vanities are ideal in smaller bathrooms while freestanding ones make an impressive impact in larger spaces. They provide the same level of functionality but have different impacts on your walls and overall aesthetics.
---