Get the Perfect Wall Hung Vanity for Your Bathroom in 2023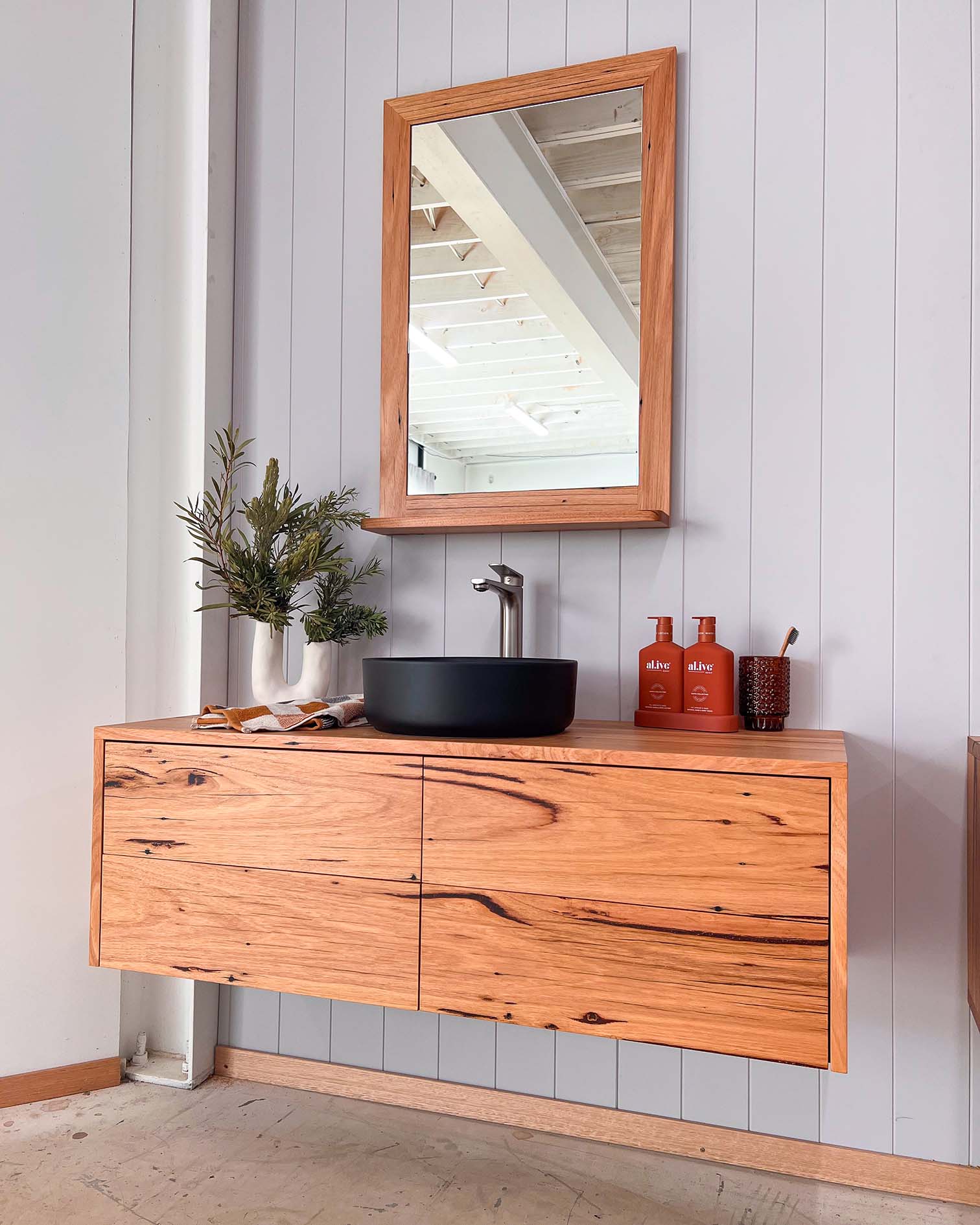 Are you yearning for an organized, contemporary-looking bathroom that's straightforward to upkeep? A wall hung vanity could be the perfect option! This post delves into all of the advantages wall hung vanities present as well as distinct designs and materials available. Plus, we'll give advice on selecting the ideal one for your space so it can become a stylish haven without difficulty. Get ready to bring your bathroom together with a modernized yet classy touch, wall mounted vanities are here at last!
Short Summary
Discover easy cleaning and maintenance solutions for bathrooms with Wall Hung Vanities

Browse & compare products, read reviews & take advantage of Delivery Services when shopping online

Maximize space in larger bathrooms by installing Floating Vanities for a sleek modern design
Discovering Wall Hung Vanities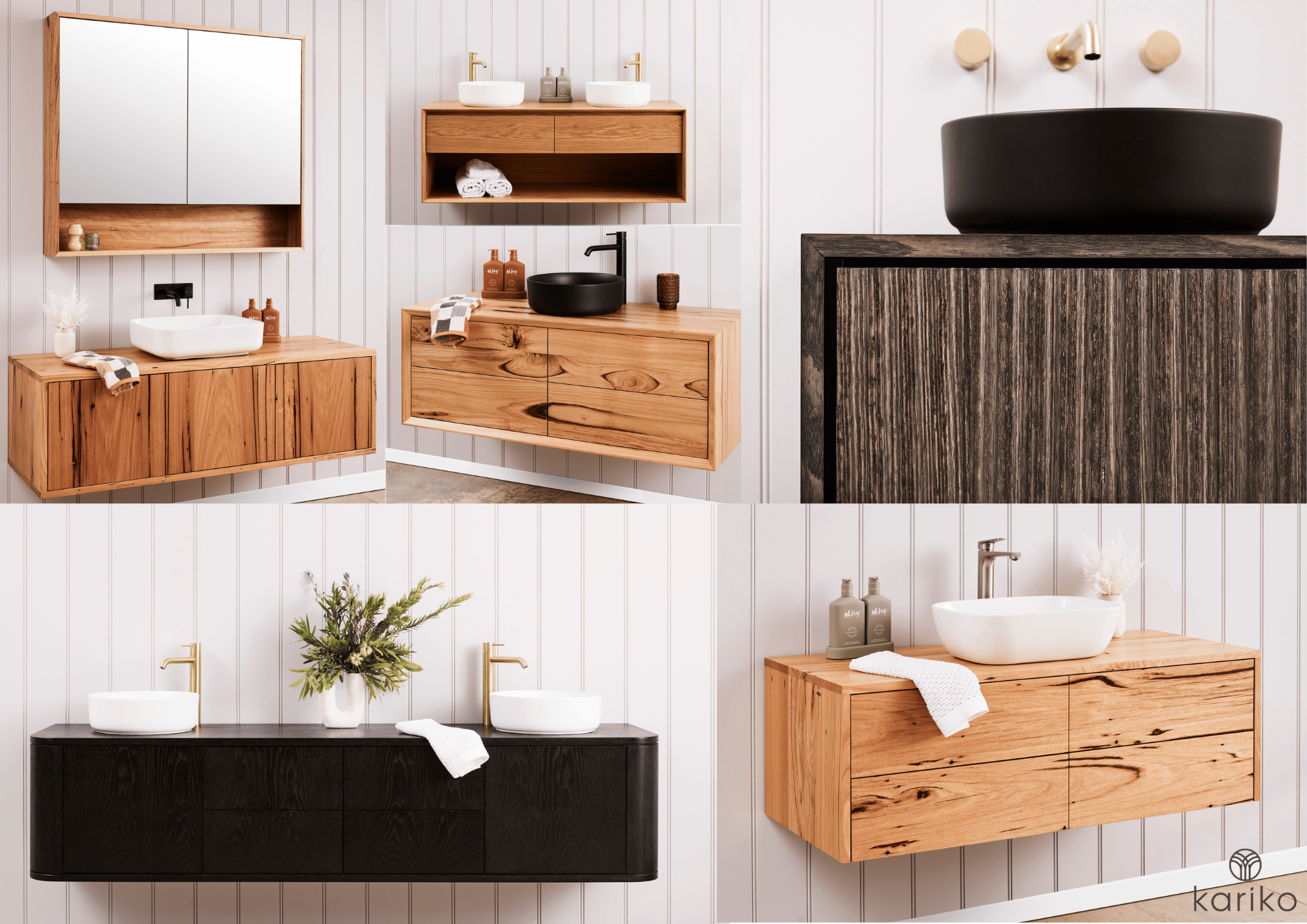 Wall hung vanities, also known as wall mounted vanity units, are the ideal option for small and large bathrooms. By being suspended from a wall these bathroom vanities create an optical illusion of more space making them perfect for powder rooms or tiny washrooms. There is a huge selection available in various styles plus materials to fit all preferences. You can be sure to find one that suits your needs perfectly.
Hung vanities present users with quick and easy cleaning/maintenance due to their design providing modern aesthetics at once too!
Modern and Classic Designs
Wall hung vanities come in a range of distinct styles, from modern designs with smooth surfaces and crisp lines to classic looks boasting intricate detailing and traditional wood finishes. Quality materials like glass, metal or wood add opulence to these wall-hung pieces, which can bring an elegant touch when chosen carefully according to one's preference. No matter if you want something sophisticated yet floating vanity for your contemporary home decor or timeless stylish piece, there are plenty of options out there waiting just for you!
Space-Saving Solutions
Wall hung vanities are the perfect choice for small bathrooms and powder rooms since they can create a bigger impression by creating an illusion of space in these areas. By utilizing wall space, clever storage solutions like open shelves or integrated drawer compartments help maximize whatever is available to you while providing stylish appeal at the same time. Not only do they look great, but their practical nature also allows homeowners to get full use out of any bathroom big or small!
Easy Cleaning and Maintenance
Wall hung vanities have become quite popular for their fashionable look, practical use of space and ease in cleaning. Placing them on the wall rather than the floor keeps messes from accumulating underneath and gives bathrooms a fresh vibe all around. These stylish pieces help keep clutter off the ground as well so your bathroom remains inviting to guests or family members at any time. With wall-hung vanities, it's easy to mop up dirt and debris without worrying about tight spaces getting clogged with dust, making this type of vanity maintenance virtually effortless!
Selecting the Ideal Wall Hung Vanity Unit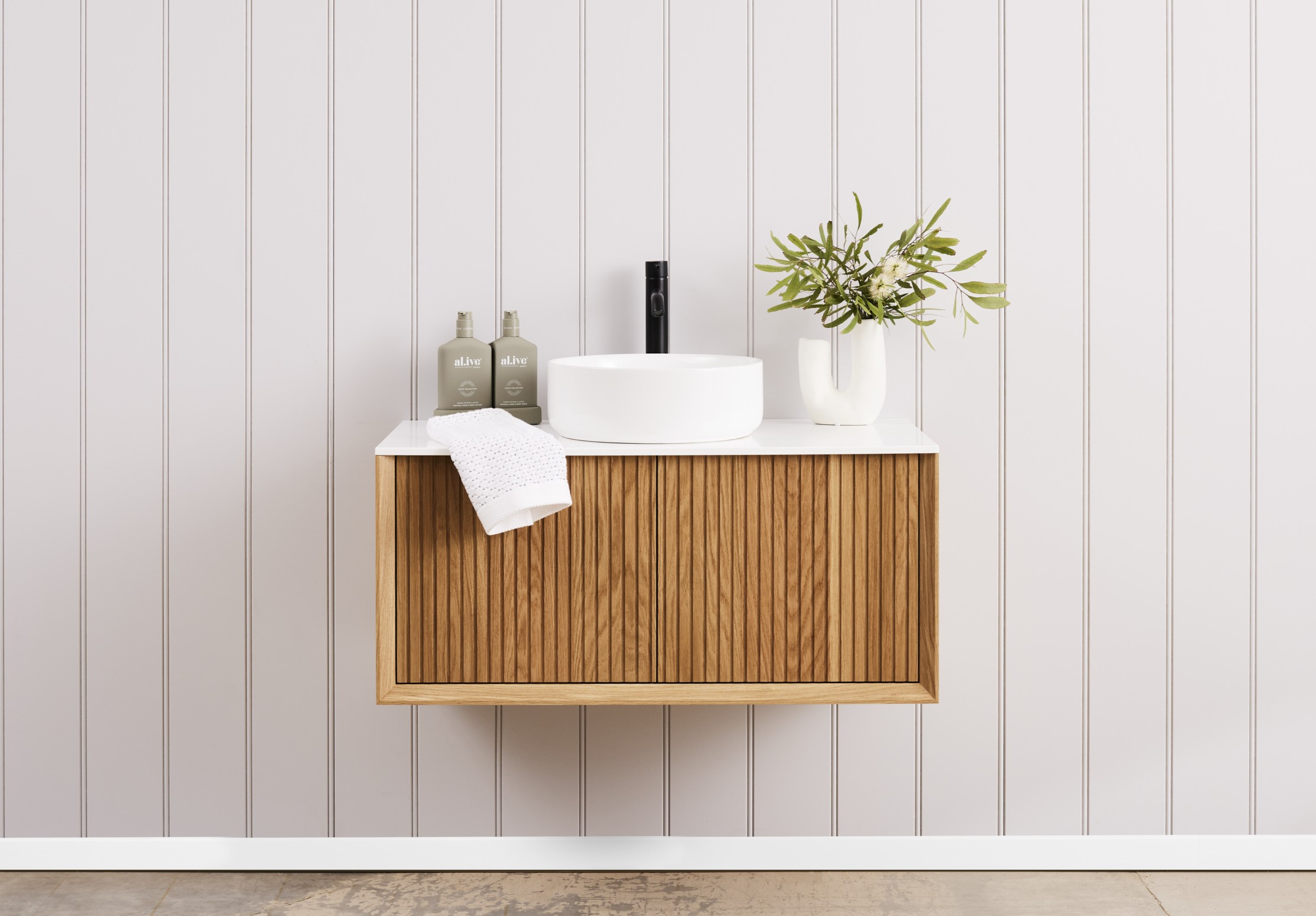 After getting acquainted with the advantages and varieties of wall hung vanities, it's time to locate the perfect one for your bathroom. To accomplish this task, you should take into account factors like measurements and arrangement, materials used and finishing touch, as well as storage facility needs and practicality.
In forthcoming sections we will dig a little deeper into these parameters so that you can make an informed decision when selecting a suitable wall-hung vanity unit for your area.
Size and Proportion
When picking a wall mounted vanity, it is essential to assess the proportion and size of the unit relative to your available bathroom area. Make sure that you take accurate measurements and ascertain that the hanging vanity fits in perfectly. Wall hung vanities are usually placed in regular bathrooms at an average height between 75-80cm (750-800mm) from floor level up.
At Kariko, we have variations for both large as well as small washrooms. Ranging from single basin units with 500mm widths all the way up to double basin ones measuring 2000mm, perfect for providing luxe looks!
Material and Finish
When choosing a wall hung vanity for your bathroom, it is important to pick materials and finishes that suit your style as well as being durable. Tasmanian Oak, American Oak or Messmate can create a timeless look in the room while stone adds modernity. High density particle board used for the internal carcasses of the cabinets also resists moisture while remaining strong enough to withstand wear and tear over time. Ultimately, whatever material you select should match with the overall décor of your space and be something that fits nicely into both its design aesthetic along with meeting personal preferences.
Storage Needs and Functionality
When looking to install a wall hung vanity unit, the size and functionality of it must be taken into consideration. Consider what you need to store in your bathroom that should fit comfortably inside this type of cabinet before choosing one. Wall hung vanities come with various designs. Some have built-in or taller wash basins while others offer single or double sinks plus space for drawers and counters on top too. An extra storage option is also accessible by utilizing floor space when installing these units as well. It's important to think about who will use them and their needs, especially then regarding the plumbing location relative to hanging the cabinets up on walls around bathrooms spaces.
Vanity Finishes and Materials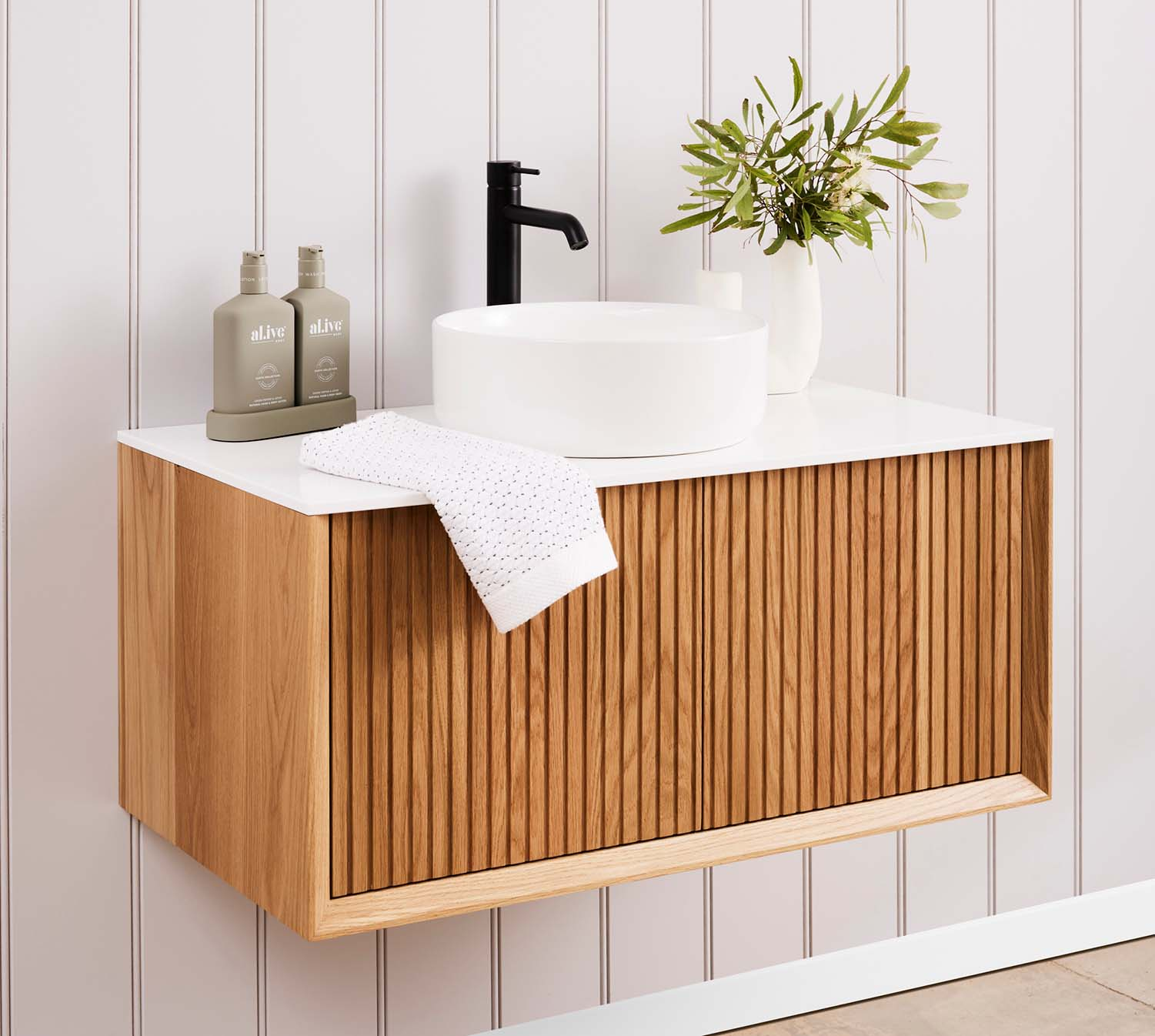 As you investigate the range of wall hung vanities in this world, there are an array of materials and finishes to harmonize with your bathroom décor. From basic white to tranquil timber options, have whatever look best fits your style.
In detail we will be analyzing Oak & Walnut veneers, quartz stone selections, as well as high density moisture resistant particle board for vanity surfaces while choosing that ideal one - wall mounted or not!
Oak and Messmate Finishes
For a classic and luxurious touch, wall hung vanities with an American Oak, Tasmanian Oak or Messmate finish will bring warmth to your bathroom. These finishes are resilient and can suit any style of décor, from contemporary to traditional. Depending on the look you prefer (lighter tones for Tasmanian Oak or richer ones in case of Messmate), these wooden finishes add sophistication and character to your vanity against the walls of the room.
Bench top options - Quartz Stone and Corian Options
For those looking for a chic and resilient vanity top, corian or engineered quartz stone is an ideal choice. Offering lightweight materials with remarkable strength in alluring shades such as glacier white, glossy white, Carrara and Calacatta will no doubt give your bathroom the stunning look you've always dreamed of! There are numerous colors to choose from that can provide trendy yet sophisticated beauty for any space.
High-Density Moisture Resistant Particle Board
A wall hung vanity is the perfect solution for any bathroom due to its durability, resistance to moisture and ease of maintenance. High density moisture-resistant particle board has been a popular choice for this kind of construction thanks to its robust qualities and long lasting performance. This type of engineered wood product features wooden particles combined with a resin binder which ensures it remains resilient while also being simple enough to clean on an ongoing basis.
Floating Vanities in Small Bathrooms and Powder Rooms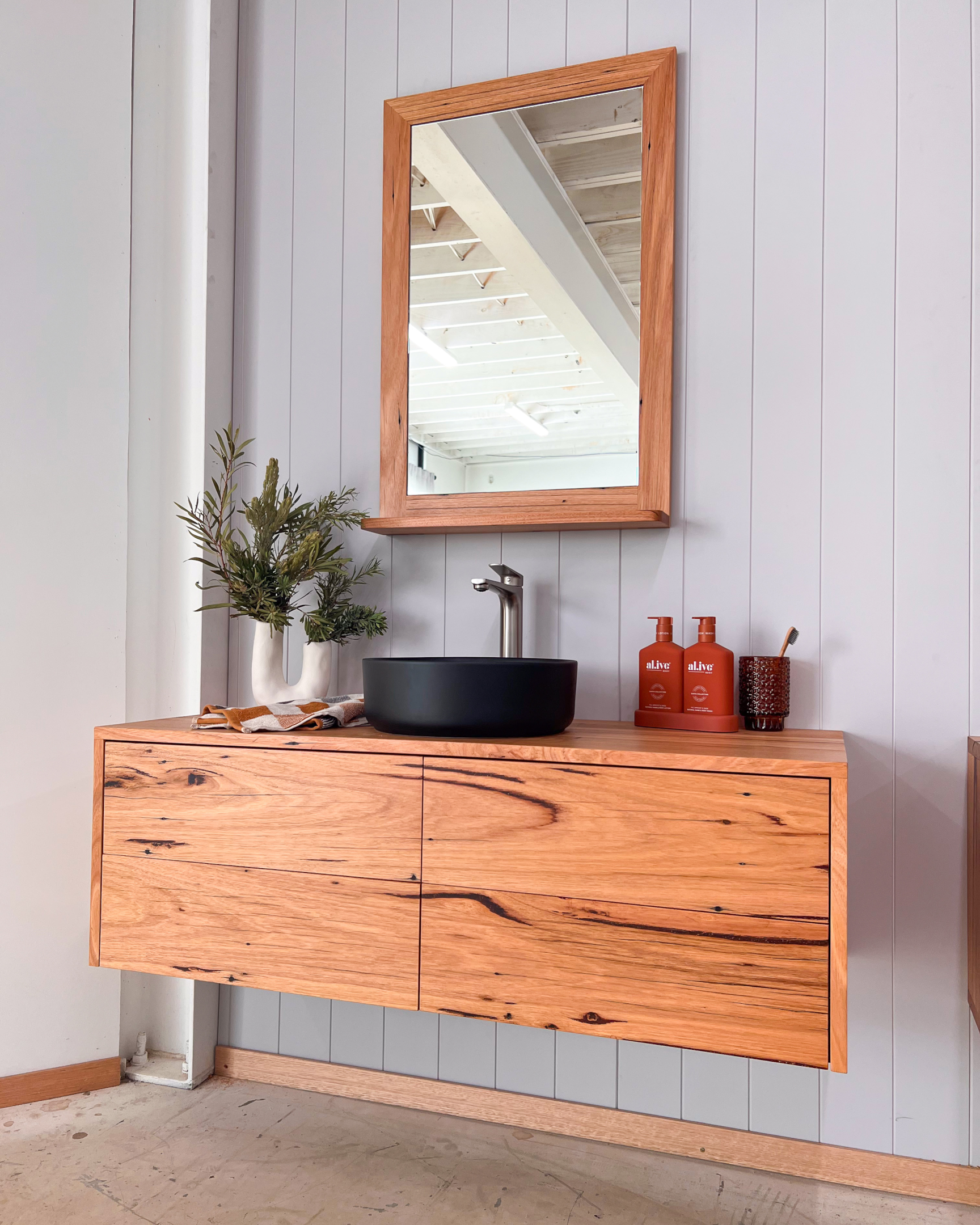 Wall hung vanities and their subset of floating vanity units are perfect for smaller bathrooms, such as powder rooms. These spaces benefit from the practicality of these types of vanities due to its design features that offer ample storage. They provide an added space-saving element while still offering a modern and stylish look. The sleek wall mounted or suspended nature also means easy cleaning access which helps keep your powder room or bathroom looking spotless at all times!
Wall Hung Vanity Installation Tips
After finding the ideal wall hung vanity, it is essential to install it in the right way. In this part of our guide we will provide advice on mounting and supporting correctly as well as plumbing concerns, plus tips for seeking professional help so that you get a smooth installation process without any worries. We must also emphasize safety when setting up your wall-mounted vanity, if done properly, its longevity should be guaranteed!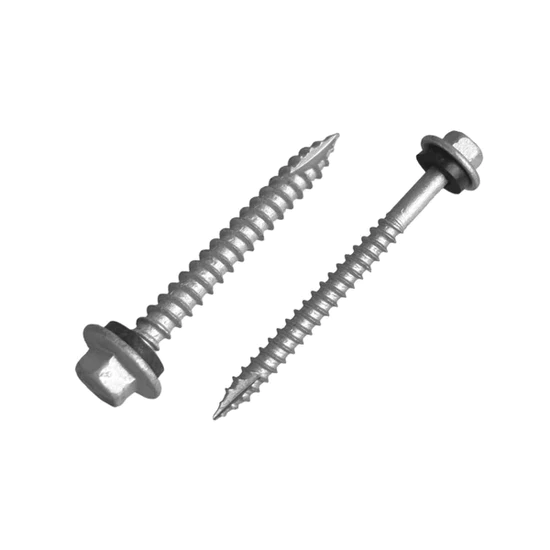 Proper Mounting and Support
Before installing your wall hung vanity, you must make sure to use the proper mounting hardware and secure it in place. Check for any damage or weak points on the surface of the wall where you're affixing it. Once everything is mounted correctly, assess if it is leveled accordingly so that installation can be completed successfully. It's essential to take all steps into account when dealing with a suspended vanity unit like this one! Kariko will supply hex head screw fixings similar to shown above to fix the vanity units to the wall.
Plumbing Considerations
Prior to setting up your wall hung vanity, take into account where the water lines and sewer pipes are located in order for it to fit properly. The waste pipe has to come through the wall instead of underneath the floor so that you don't have any difficulties installing your vanity later on. Make sure that all plumbing is kept out of sight under the sink area when installing it for a neat look overall.
Professional Assistance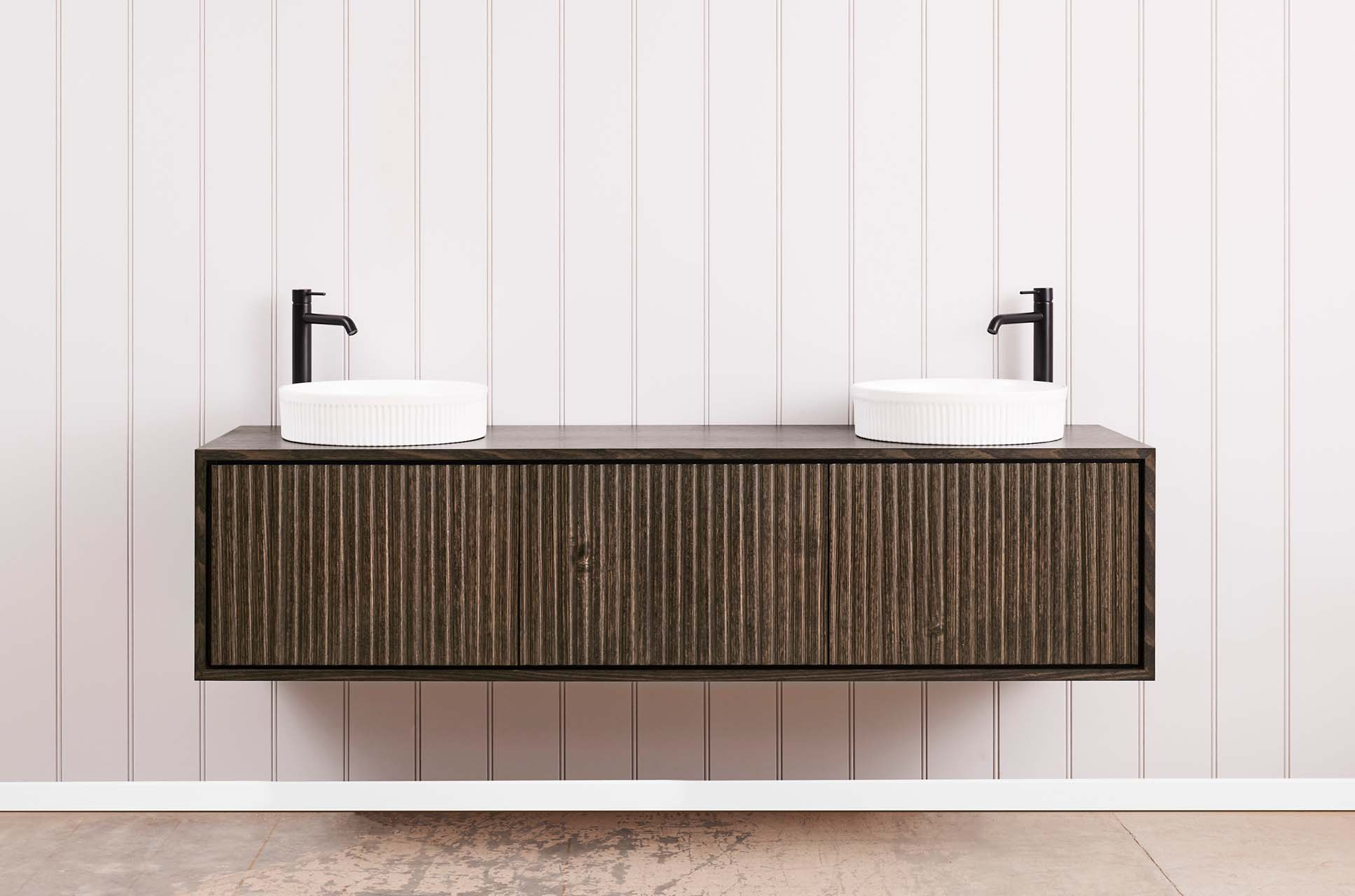 When it comes to installing a wall hung vanity, hiring a professional might be the better choice. This ensures your installation will go smoothly and look attractive when completed. Plus they can provide you a complete, with necessary plumbing services, electrical help, carpentry needs and tiling details too!
Before making any decisions on who should take care of this project for you, consider their experience in doing so beforehand. It's also important to research past customer reviews as well price rate & whether or not they're properly licensed/insured before getting started.
Shopping for Wall Hung Vanities Online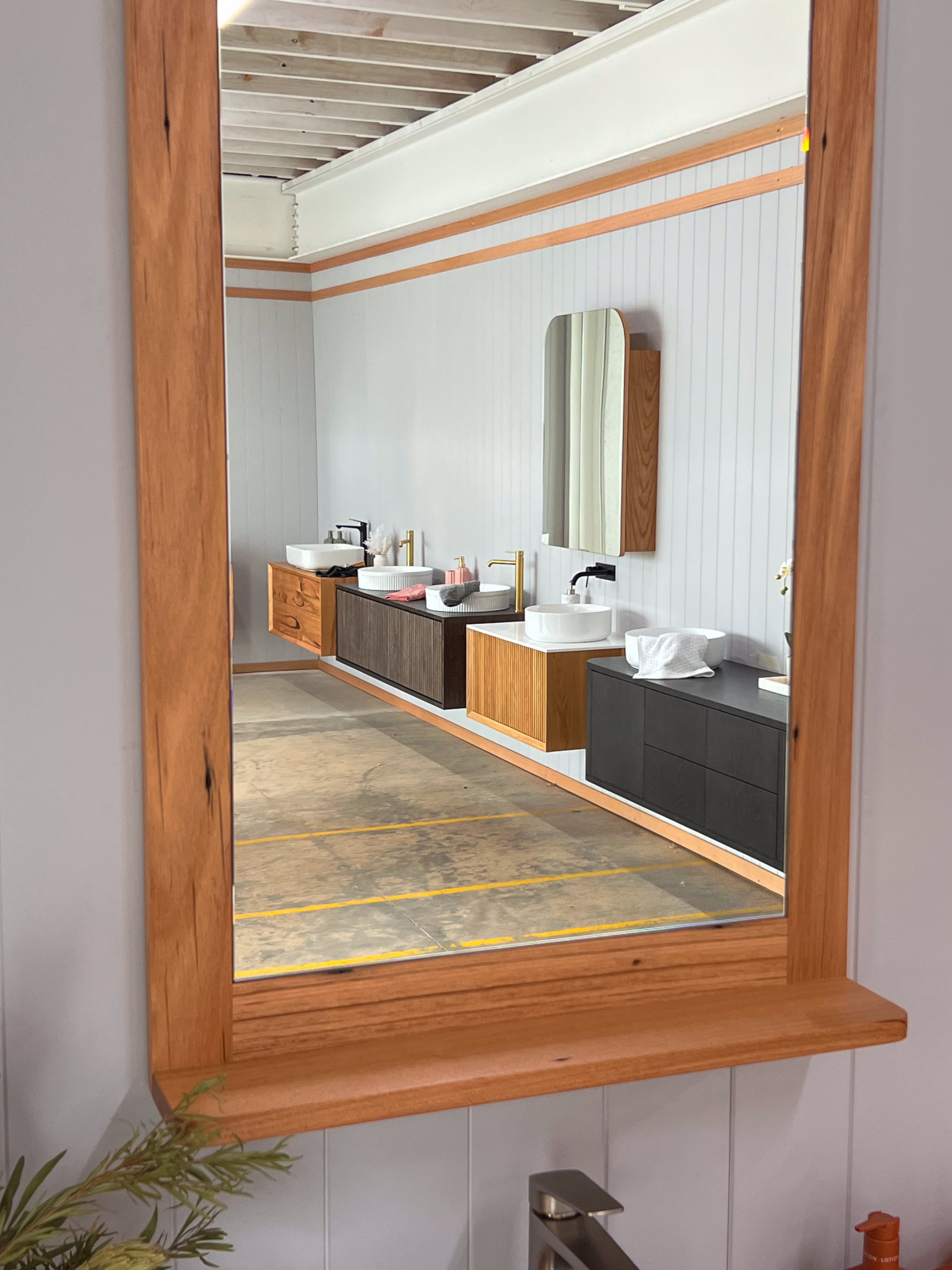 The advantages of purchasing wall hung vanities on the web are many, including the possibility to compare items easily and utilize secure payment systems as well as delivery and shipping services. Here we will look at pointers for browsing products online while keeping safety in mind when it comes to payments, all while taking advantage of convenient delivery or shipment options.
Browsing and Comparing Products
When looking for wall hung vanities, it is possible to have access to a large selection of brands and retailers online. This allows you the chance to pick out the best vanity that meets your bathroom's specific size requirements, as well as finishes and materials. To ensure satisfaction with your purchase, take into account customer reviews which can inform on quality or product performance when selecting a vanity from an available range.
Secure Payment Methods
When getting wall hung vanities from online stores, it is important to guarantee your privacy and safety through the use of reliable payment solutions. You can take advantage of several secure and secure payment options, such as debit/credit cards (Visa, MasterCard or American Express), Afterpay, MasterCard, PayPal and Zip while you shop. Always review the regulations relating to each method before making a purchase – double checking all financial information before processing transaction will help protect yourself too!
Delivery and Shipping Services
Obtaining a wall hung vanity can be made effortless with many online retailers' delivery services, however as they are big and bulky items, extra care and consideration must be taken to ensure they are not damaged in trasport. At Kariko, we ensure all our vanities are palletised where required, and wrapped in multiple layers of protection including bubble wrap and packing foam. If you are within a 30km radius of Melbourne, we will hand deliver it to your door free of charge.
Take advantage of this simple convenience for buying your new hanging vanities and you'll have it in no time.
Wall Hung Vanities for Larger Bathrooms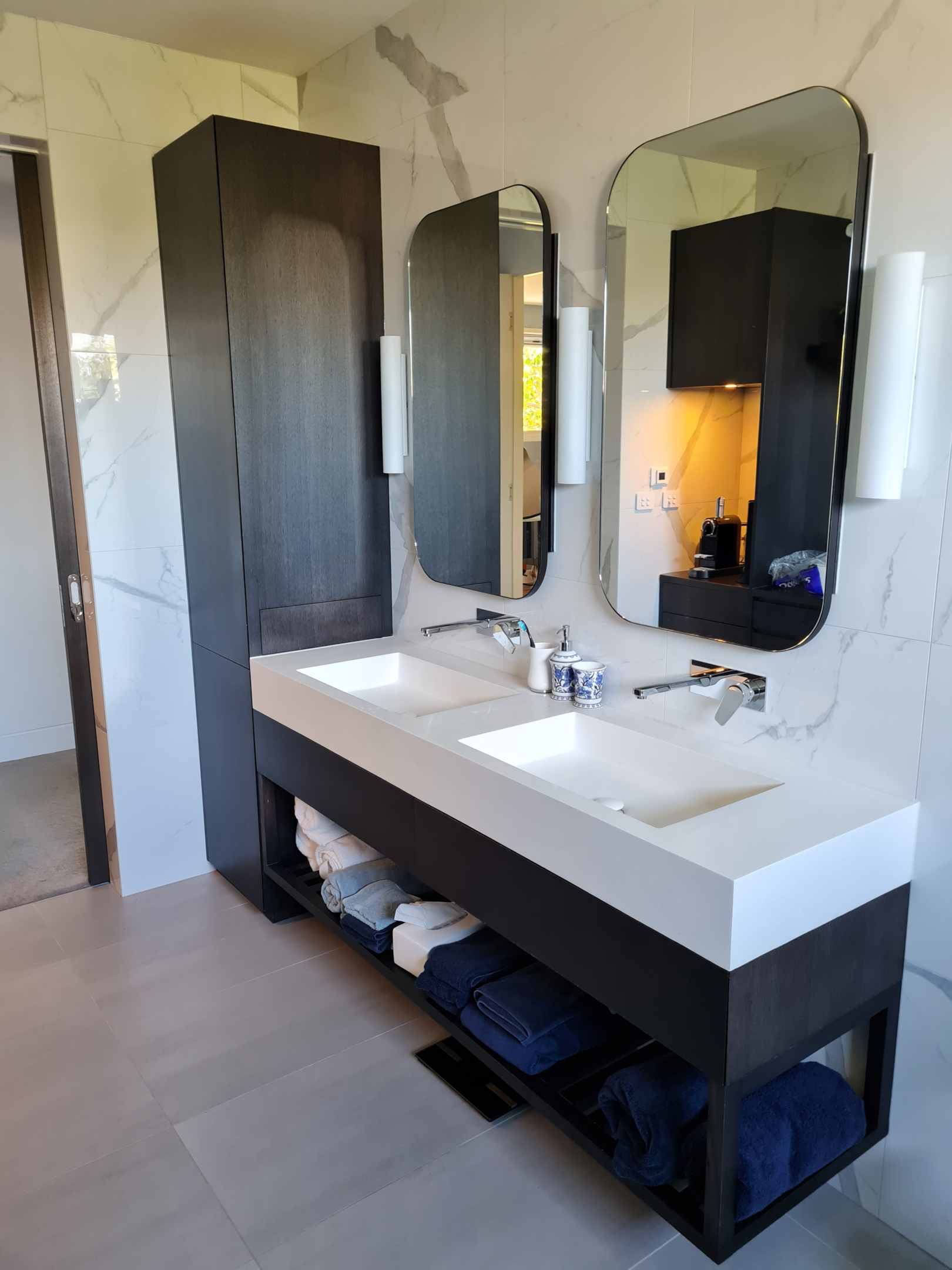 Wall hung vanities are a great choice for not just powder rooms and small bathrooms, but also larger bathroom areas. Their modern design features, storage capabilities, and convenient cleaning offer an enhancement of the look and functionality in any kind of bathroom! With their ease to install on walls providing additional space saving advantages, wall mounted vanities can be used regardless of size or layout.
Summary
When it comes to style, convenience and functionality for your bathroom, wall hung vanities provide the perfect solution. With a range of materials and designs to choose from as well as convenient storage space options all in one piece, you can enjoy easy cleaning with this versatile hung vanity unit that helps save precious floor space. Before choosing the right size, material & finish or desired amount of storage. Make sure online shopping is secure via payment methods before taking advantage of delivery services! Once installed correctly onto walls within bathrooms. There's no doubt these stylish pieces will transform any area into an appealing oasis.
Frequently Asked Questions
What are the cons of a floating vanity?
Floating vanities usually have less storage space than regular ones, requiring the installation of separate wall-mounted cabinets to make up for it. Installing a floating vanity may take longer and be more complex compared to other types. To ensure ample organization potential in your bathroom, adding extra shelving along with the mounted vanity can provide added accessibility when storing toiletries or supplies that wouldn't otherwise fit within its body.
Are floating vanities hard to install?
Setting up a floating vanity can be difficult, and may require additional effort and resources. It's not the easiest solution to implement as it needs to be affixed to the wall in order for it to remain stable. Floating vanities offer an eye-catching contemporary feel that adds personality to any bathroom, but their setup requires extra attention when installing them. Be sure you are taking all of these factors into consideration before deciding if this is right for your space!
Are floating vanities cheaper?
A floating bathroom vanity is pricier due to the need for additional materials and labor when putting it into place. Vanity shoppers should anticipate a bigger price tag if they opt for a suspended model over other options, especially where they are made from solid timber.
Can wall hung vanities be used in larger bathrooms?
Wall-hung vanities can be used to great effect in larger bathrooms, adding an up-to-date feel and giving ample storage for all needs. Easy maintenance is another benefit of having these units installed on the wall. When it comes to design features, they are also quite attractive as well as offering plentiful space for items like toiletries and towels.
Mounting a vanity onto the wall not only looks stunning but makes cleaning significantly easier than traditional floor standing models, which require getting down close to get rid of dust or grime that may have collected over time. Wall hung pieces provide easy access from any angle so your entire bathroom remains neat without too much effort involved when scrubbing away at surface areas!
Vanities mounted onto walls give large bathrooms something special.
What types of finishes and materials are available for wall hung vanities?
Wall hung vanities provide many stylish choices - from Tasmanian Oak, American Oak to Messmate finishes to luxurious quartz stone surfaces, or even more practical particle board models that are resistant to moisture. Every taste is catered for!
---